Ice Knee Cube
$59.99
Regular price
$79.99
Do you HATE IT when your legs touch during the night? Of course you do. You're not a monster! Now, get your favorite knee pillow on ice. #stopthesweat

The Ice Knee Cube is going to change your life!
Unlike other leg pillows, the Ice Knee Cube is designed to run the entire length of your legs, ensuring those sweaty flesh tubes don't touch during the night. 
Better yet, we've upgraded it with our cooling case and premium temperature-regulating memory foam to keep everything from getting damp and swampy.
By now, you have noticed this pillow's intriguing contours. These keep the pillow in place while letting your legs move into the position that's most comfortable for you.
The Knee Cube pillow helps you get better sleep by alleviating pressure on your hips, knees, and ankles. It also helps your lower back stay aligned so you don't wake up in pain.
Kick leg friction to the curb! Grab the Ice Knee Cube today and sleep in COOL comfort.
×
Size Guide
Checkout the sizes of mattresses below.

If you're still scratching your head over which size is best for you, don't lose sleep over it! Our sleep consultant is always on standby, eager to help you find the perfect fit.
MOST HELPFUL REVIEWS

Best Sleep Of My Life With This Pillow!
Honestly I'm very picky with pillows, all my family members have loved really soft pillows but I always went for firm ones because otherwise my neck hurt every morning. But then in early 2021 I saw an add on Instagram and bought a pillow cube soon after. Now I've had it for over 2 years, much longer than I've been satisfied with any other pillow. Now I'm considering buying another one for when I stay over night at my boyfriend's place cause he likes soft pillows just like everyone else in my life 🤣
11 people found this helpful

Supportive Pillow - Good For Side Sleeper
As a side sleeper, I was constantly plagued by neck and back pain upon waking. I wanted to hold off on sharing my thoughts until I'd thoroughly tested out this Pillow Cube. Having used this product for several weeks, I can confidently say that it has resolved all of my discomfort issues. My first order was for the standard size, but it was too tall for my preference. However, the return process was not only seamless but also environmentally friendly, which I truly appreciated. For reference, I'm 5'3 and weigh approximately 110lbs. I found that the 4-inch version of the Pillow Cube suits me far better.
6 people found this helpful

Does Exactly What I Hoped It Would Do
I've suffered from neck problems for many years, and frequently wake up with muscle spasms which, in turn, often triggers migraines. I knew that my old pillow wasn't working for me, but had no idea what to try as a replacement. After my wife and son both bought Pillow Cubes and raved about them, they convinced me to give one a try. Although it took a night or two to get accustomed to the extra support, I have not had any neck pain whatsoever since I started using it, and I find that I'm sleeping more soundly than before. The Pillow Cube is definitely worth every penny spent - I just wish I had it years ago.
5 people found this helpful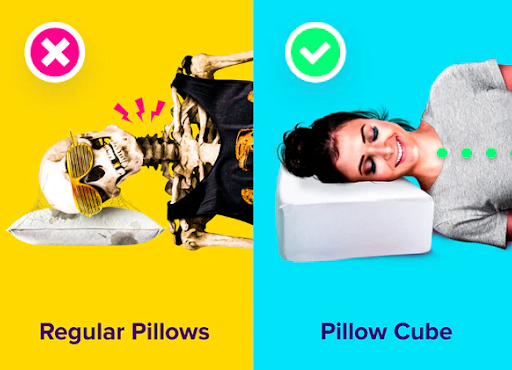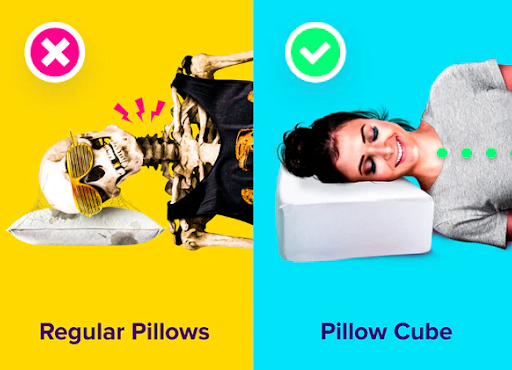 MADE FOR SIDE SLEEPERS, BY SIDE SLEEPERS
Old fashioned pillows are made with cheap foam dumped into a sack. But sleepers need more support, and we will try anything to get it; folding, stacking, nothing works.

Pillow Cube fills the gap between your bed and your head, aligns your spine, and supports your noggin.

Our customers report that they get better sleep, wake up pain free and full of energy.
GET THE SIDE CUBE
DESIGNED WITH PREMIUM MATERIALS TO SUPPORT YOUR NECK & ALIGN YOUR SPINE.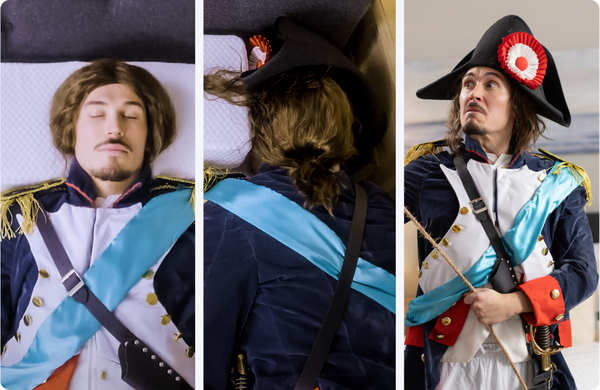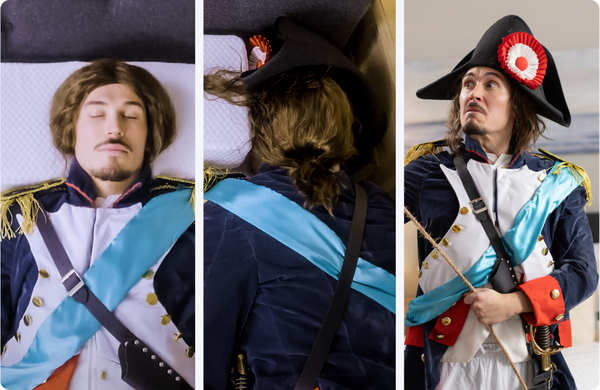 What if my partner sleeps on their back or stomach?
Whether your partner sleeps on their back, stomach, or dreams of the French Revolution, we've got the perfect pillow for them. Designed with precision, our pillow not only cradles the heads of side sleepers but also offers optimal neck support. It's no wonder that back and stomach sleepers alike have reported increased comfort and rejuvenating sleep. Don't lose your head over which mattress to get. Fight for a better sleep today!
VIVE LA REVOLUTION!
Total 5 star reviews: 2
Total 4 star reviews: 1
Total 3 star reviews: 0
Total 2 star reviews: 0
Total 1 star reviews: 0
Dakotas E.

Verified Buyer

What Position do you Sleep In?

Side

Yesterday

What Position do you Sleep In?

Side

Best gift ever I've been told

I purchased this as a gift for my spouse and she absolutely loves it. Not one night does it go unused and with the mix between the side cube she's out in minutes whereas she use to toss and turn and couldn't get to sleep quicker than 20-30 minutes. It surely has made all the difference and now with us talking about possibly ordering the pillow cube mattress I cannot wait, I don't think there's words to express my child like excitement. Pillow cube has surely made a difference in our lives and I highly recommend to everyone who wants to sleep more soundly. All our family and friends that've asked us about them we've showed them and they're now debating on placing orders haha!

PC

Pillow Cube

12 seconds ago

Thank you for your great feedback! It's wonderful to hear your wife loves her products! And thank you for spreading the word about what Pillow Cube offers.

M W.

Verified Buyer

What Position do you Sleep In?

Side,

Combination

Yesterday

What Position do you Sleep In?

Side,

Combination

Absolutely knee-ded

Had to take a trip to Grandma's and sleep on her couch.

The knee pillow arrived quicker than I expected, showing up just before I had to leave, so I got to take it with me on my trip.

My knees were the only part of me not sore from Grandma's couch.

Thank you, cube pillow!

PC

Pillow Cube

1 minute ago

This is amazing to hear! Glad you love it!

angela l.

Verified Buyer

What Position do you Sleep In?

Side,

Back

Bought For

Try something new

6 days ago

What Position do you Sleep In?

Side,

Back

Bought For

Try something new

Great find

I used to use a half bolster type pillow but found I'd have to readjust often. I wasn't able to get a pillow case for this because it was sold out. I do think it would be less likely to move so much on me because the pillow is so cool and has the smooth type material that moves more than one with a pillow case. I'm still finding what's the perfect positions with it but I like its options. I tend to sleep more with my legs straight so I'd you sleep with them at 90 degrees or 45 this will be your jam!

PC

Pillow Cube

5 days ago

Navigating the pillow-scape, finding the right angle for your dreams – it's a sleep adventure! 🌙✨ Smooth moves and cool vibes, the Pillow Cube's got it all. As for those 90-degree or 45-degree sleeps, why choose when you can jam with both? Here's to the versatile slumber!
Reviews Loaded
Reviews Added
FAQ
What are the dimensions of the pillow?

Height: 4, 5 or 6 inch (available in 3 sizes)
Width: 12 inch
Length: 24 inch
How do I know which size to order?

Take our PRODUCT QUIZ to find the perfect fit for you! If you need further assistance, reach out to our support specialists at support@pillowcube.com.
"What if I sleep on my back?"

While the Pillow Cube was specifically designed for side sleepers, we have heard from some side/back sleepers that they enjoy the pillow too! But all in all, the pillow is intended for side sleepers.
Where do you ship to?

We currently ship within the United States.
What is in the foam?

Our high-quality foam is made of breathable, viscoelastic polyurethane.
What is the pillowcase made from?

The pillowcase is made out of polyester and spandex.
Can I return the pillow?

Yes, you can. Please take note of the following:

There is a $15 return shipping fee, unless Redo was purchased at checkout for $2.98.
Additionally, there is a 15% processing fee when you select refund back to Original Payment Method. This can be avoided if you do an exchange or select store credit.