Pillow Cube Mattress Deluxe
The Perfect Luxury Mattress for Side Sleepers
Most mattresses aren't made for side sleepers. That's one reason you wake up with shoulder, neck, and back pain. The Pillow Cube Mattress is specifically designed for the needs of side sleepers. The top third is pillowy soft so your shoulder sinks in and the middle is supportive for your hips so that your spine is perfectly aligned. Now you can finally sleep comfortably and wake up refreshed.
What Makes It Different?
The Deluxe incorporates premium, pocketed coils and a higher-grade foam for more luxurious comfort and optimal spinal alignment
The shoulder zone reduces pressure on your shoulder to decrease pain
The hip zone provides support to align your spine and decrease back pain
$1,499.99
Regular price
$1,699.99
Designed for Side Sleepers
Most other mattresses are either too soft and banana in the middle (killing your back) or they're too hard for a side sleeper's shoulder and you wake up in pain.
We design mattresses specifically for the side sleeper's curvey and angles. We make the top third soft for your shoulder and the bottom part supportive for your hips.
Take a peek beneath the covers
Why should I get a Pillow Cube Mattress?
Fall Asleep Faster

With our Plush Cube Cover and Breathable Bounce Back layer you'll be instantly cool and comfortable in any position.

Stay Asleep Longer

Align your spine and enjoy a long, pain-free night's rest with our Premium Pillow Soft and Firm Foam Foundation layers.

Wake Up Happier

Our Spine Align Zoned Support Colls will ensure you wake up well rested with your shoulder cradled in comfort and your hip fully supported.
Soft on Your Shoulder and Supportive on Your Hips
Soft Shoulder Zone

Shoulders are lower and uncomfortable to sleep on. So we made a pillowy soft layer.

Hip Support Zone

Hips are higher and heavier. So we made a layer with plenty of hip support.
Don't believe yet? Read what
Our Customers Are Saying
Customer Reviews
100
reviewers would recommend this product
Write a Review
Ask a Question
Filter Reviews:
mattress
wife
pillow cube
support
back
comfort
sleep
shoulder
purchase
side sleepers
03/10/2023
Ryan A.

United States
I recommend this product
Awesome Mattress
Really love how the mattress helps me sleep better and quicker than any other mattress I've had. This mattress rules and I enjoy laying in it every night. I look forward to it matter of fact!
*Mic drop* We LOVE to hear you are enjoying and even LOOKING FORWARD to bed every night. Thanks for sharing the love, and your review, with us.
03/09/2023
Nic S.

United States
I recommend this product
Amazing
The pillow cube pillow changed my life and I take it with me even when I go on a trip. I had been looking for a new mattress for awhile and had recently purchased a Casper and returned it after a week. Then I bought a Serta mattress I thought wasn't the worst thing in the world. But when I saw the announcement for the mattress cube I ordered it immediately. I was excited but skeptical. My friend had to help me with the king size mattress and when we laid down on it to test it out we both looked at each other in confusion and disbelief. We couldn't believe how comfortable it was, it actually confused us because it was so amazing. I've been sleeping on it for about 8 months now and I feel the same way every night I lay down. Everyone should have this mattress.
It's the Goldilocks of mattresses! We're so happy you found it! Thanks for taking the time to share with us. :) Sweet dreams!
01/12/2023
Anonymous

United States
I recommend this product
Super Cozy
I love my new mattress! Not only is it exceptionally comfortable, the cooling mattress cover helps with breath ability. I wish I would have purchased earlier. It's a worthwhile investment.
01/11/2023
Ryan

United States
I recommend this product
Switched from Purple
Switched to this after sleeping on a purple mattress for years, and holy cows. No more impinged shoulder pain in the morning! According to my sleep tracker, I wake up less in the middle of the night and I'm feeling better rested in the morning. Plus it's more comfortable (I set them up right next to each other). Pillow cube mattress provides: +5 comfort +2 strength +4 mobility +10 sleep quality +10% xp gained for 24 hours Would highly recommend.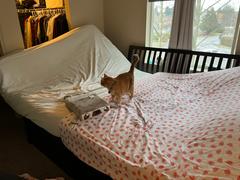 Tighter Budget?
There's ANOTHER Option.
Pillow Cube Mattress Original
Align your spine - Soft on your shoulder, supportive on your hip, and smart for your wallet.
Check It Out
FAQ
WHAT IS THE MATTRESS MADE OF?

This Four Layer Mattress is the best solution for better sleep on your side and here's why...

Layer #1

Ultrasoft cushioning zip-on cover
100% polyester
550 GSM weight

Layer #2

2" High airflow + high rebound foam
"Latex like" polyurethane foam
3.0 lb 15 IFD
Provides temperature neutral sleeping
Prevents the sleeper from having the "trapped" in hot memory foam feeling

Layer #3

2" high weight super-premium foam
5.0 lb 10 IFD
Cradles your shoulders and hips

Layer #4

8" Foam encased coil unit
4" 45 IFD polyurethane foam rails
1" 30 IFD Top and bottom cap
6" individually pocketed zoned coils
Provides support where you need it!
HOW BIG IS THE MATTRESS?

Width x Length x Height

California King - 72 x 84 x 12
King - 76 x 80 x 12
Queen - 60 x 80 x 12
Full - 54 x 75 x 12
Twin XL - 38 x 80 x 12
Twin - 38 x 75 x 12
HOW DO YOU SHIP IT?

Your new mattress is probably the coolest thing you'll ever get in the mail! It is shipped by Fedex and comes in a super sweet vacuum sealed case that is rolled up to fit just right in our custom box. Open it and get some cool time lapse videos of it expanding to its full height!

Here are specifics on the package you'll receive:

KING:
Weight - 135 lbs
Length - 45 in
Width - 18.5 in
Height - 18.5 in

Queen:
Weight - 117 lbs
Length - 45 in
Width - 18.5 in
Height - 18.5 in

Twin XL:
Weight - 70 lbs
Length - 42 in
Width - 15 in
Height - 15 in
WHY IS THE TOP PART A DIFFERENT COLOR?

We're glad you asked! What makes this mattress so special is that it's specifically meant for side sleep (the best sleep for you).

The top third of the mattress is softer to help take the pressure off your shoulder. This helps prevent pain in your neck, shoulder, and back in the morning.

The middle of the mattress is made with firmer foam layers to help support the weight of your hips, thus aligning your spine - PERFECTLY!

Why mattress companies haven't been doing this for years, we couldn't tell you.
WHAT IF MY PARTNER OR I SLEEP ON OUR BACK?

Our back sleeper test subjects have loved the Pillow Cube Mattress and prefer it over their current mattress. While designed for side sleepers, it works well for all.
CAN I RETURN IT?

ABSOLUTELY!

You can get a refund up to 100 nights after you receive your mattress. Go ahead and give it the old college try and see if it doesn't help you get the best sleep of your life.
What if my partner sleeps on their back or stomach?
Whether your partner sleeps on their back, stomach, or is a French Revolutionary we've got you covered. The Pillow Cube Mattress was designed to cradle side sleepers shoulders and support their hips but back and stomach sleepers have also reported increased comfort and better sleep due to our revolutionary new zoning support system. Don't loose your head over which mattress to get. Fight for a better sleep today!
We Reinvented the Mattress AND the Pillow for Side Sleepers
We reinvented good sleep with the Pillow Cube side sleeper pillow. When we sold over 400,000 pillows we decided to re-reinvent sleep...again with the Pillow Cube Mattress for side sleepers.
Pillow Cube has 13.6K Five Star Reviews ⭐⭐⭐⭐⭐