Ice Cube Deluxe
$99.99
Regular price
$179.99
Psst... You there! Yes, you, the side sleeper on a quest for the ultimate sleep experience. 
Hold onto your dreams because the Ice Cube Deluxe is about to transport you to pillow paradise.
Building upon the extraordinary comfort of our Side Cube Deluxe, the Ice Cube Deluxe elevates your sleep to new frontiers with:
Premium Memory Foam infused with Cooling Beads (for deeper sleep & more support)
Cool Coat painted across the top (adding an icy touch of coolness)
Ventilation Holes (extra cooling, less ear pressure)
Advanced Antimicrobial Properties (the pillow stays cleaner, longer) 
Our Super Soft Luxury Shell with Integrated Cooling Frozen Fibers - Truly our best cover yet. You'll think it came from kittens. (It didn't, but you might think it did) 
Join our league of legendary sleepers - grab the Ice Cube Deluxe today, and embark on nocturnal adventures where dreams come alive!
×
Size Guide
Checkout the sizes of mattresses below.

If you're still scratching your head over which size is best for you, don't lose sleep over it! Our sleep consultant is always on standby, eager to help you find the perfect fit.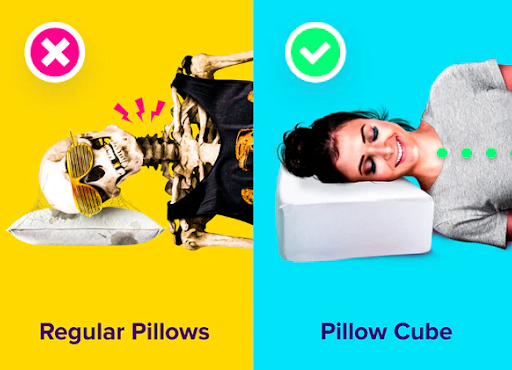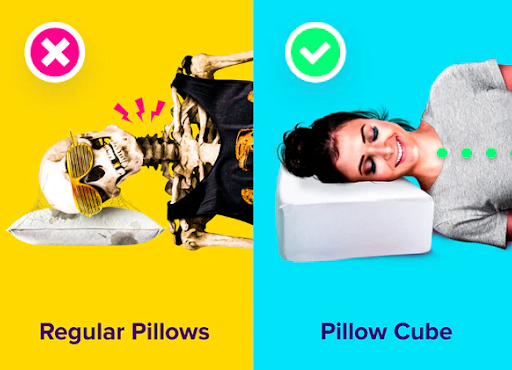 MADE FOR SIDE SLEEPERS, BY SIDE SLEEPERS
Old fashioned pillows are made with cheap foam dumped into a sack. But sleepers need more support, and we will try anything to get it; folding, stacking, nothing works.

Pillow Cube fills the gap between your bed and your head, aligns your spine, and supports your noggin.

Our customers report that they get better sleep, wake up pain free and full of energy.
GET THE SIDE CUBE
DESIGNED WITH PREMIUM MATERIALS TO SUPPORT YOUR NECK & ALIGN YOUR SPINE.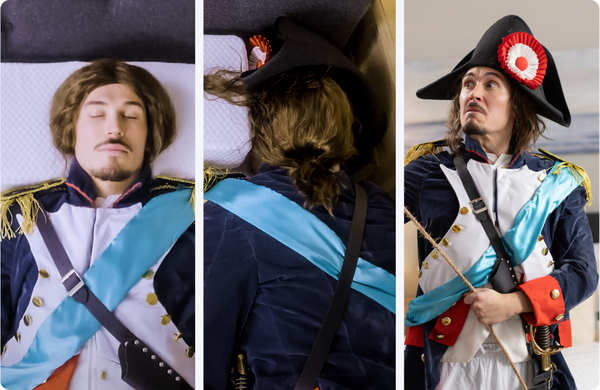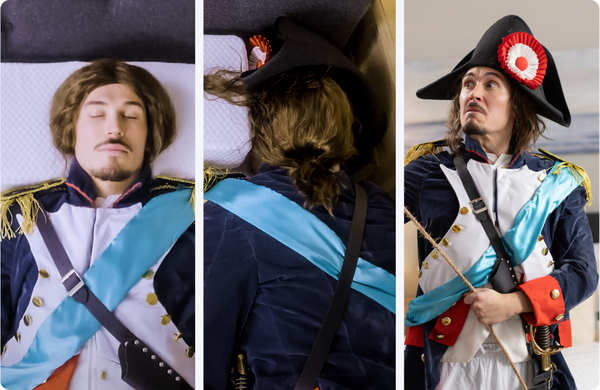 What if my partner sleeps on their back or stomach?
Whether your partner sleeps on their back, stomach, or dreams of the French Revolution, we've got the perfect pillow for them. Designed with precision, our pillow not only cradles the heads of side sleepers but also offers optimal neck support. It's no wonder that back and stomach sleepers alike have reported increased comfort and rejuvenating sleep. Don't lose your head over which mattress to get. Fight for a better sleep today!
VIVE LA REVOLUTION!
Total 5 star reviews: 48
Total 4 star reviews: 11
Total 3 star reviews: 3
Total 2 star reviews: 2
Total 1 star reviews: 4
Katie W.

Verified Buyer

What Position do you Sleep In?

Side,

Stomach

1 week ago

What Position do you Sleep In?

Side,

Stomach

Love this Pillow!

I've had it for about a week, and it has been fabulous! I love how it cools quickly and keeps me comfy through the night. Super supportive, but not stiff and bulky.

PC

Pillow Cube

1 week ago

A week of fabulousness! That's what we like to hear. Here's to many more cool, comfy, and supportive nights ahead. Your dreams must be throwing a party on that pillow!

MOLLY P.

Verified Buyer

What Position do you Sleep In?

Combination

1 week ago

What Position do you Sleep In?

Combination

Best pillow yet!

I had a pillow similar to this one when I was a kid. Not quite memory foam but fluffy and cold. 🫠It's great. My pillows were so off that I kept waking up with completely numb arms. Now that doesn't happen to me at all 😊

I'm not too much of a fan of the pillowcase that I bought for it (microfiber one) but that's unrelated to the pillow itself. I haven't tried to put my other pillow case on yet…the sizing may be weird🤔.

That's possibly the only downside to buying this pillow but not worth taking off a "*" for the review… my rest has been too good- so I'm not grumpy enough to do that. I'll crochet one of my own if I have to.

Analisa C.

What Position do you Sleep In?

Side

1 week ago

What Position do you Sleep In?

Side

Love at first lay down

Had my eye on this pillow debating if the hype was true or as worth it as people say. As a side sleeper I've gone through so many pillows and mornings with neck pain. I finally gave the pillow a try and as soon as my head hit the pillow I knew there was no going back. I'd be shoving and fluffing 2-3 different pillows trying to get the support that the pillowcube gives. Deluxe size is worth it if you like flipping to another side and the cooling is amazing! Loved it so much I bought one for my mom and my grandma too. Best sleep I've gotten in ages and actually feel rested when I get up.

PC

Pillow Cube

1 week ago

We're thrilled to hear you've had a great experience with your Pillow Cube! Happy sleeping, our friend!

Wes W.

Verified Buyer

What Position do you Sleep In?

Side

2 weeks ago

What Position do you Sleep In?

Side

Don't need to return

So far it has made a great difference. I don't end up on my back trying to prop my head up. Sleeping on my side has been greatly improved. The cooling works; I'm in Phoenix, AZ and even with the A/C blasting, I always end up sweating on my neck. Even in the winter I sweat on my neck. I also noticed a huge improvement on my ear pressure. With my old pillow I kept having to roll over because my ear hurt. So far it's been a great life improvement. 👍🏻

PC

Pillow Cube

2 weeks ago

The Pillow Cube - a cool cat even in the Phoenix heat! 🌵🔥 No more acrobatics to prop up your head or ear pressure dramas – just the sweet symphony of improved side sleeping. Here's to more cool nights and sweet dreams in the desert with your trusty cube companion!

Jeff H.

Verified Buyer

What Position do you Sleep In?

Side

2 weeks ago

What Position do you Sleep In?

Side

Me and my pillow cube

After sleeping with "my pillow" for about ten years, and then sleeping with a pillow made by Surtera for about three months, I can honestly say at this point in my life I believe the "pillow cube" is going to provide me the necessary comfort and support needed for a good night sleep. Thank you. Jeff H.

PC

Pillow Cube

2 weeks ago

Thank you for sharing your review with us! Here's to more nights with endless comfort, dreamy support, and the perfect night's sleep. Sweet dreams, Jeff!
Reviews Loaded
Reviews Added
FAQ
What are the dimensions of the pillow?

Height: 4, 5 or 6 inch (available in 3 sizes)
Width: 12 inch
Length: 24 inch
How do I know which size to order?

Take our PRODUCT QUIZ to find the perfect fit for you! If you need further assistance, reach out to our support specialists at support@pillowcube.com.
"What if I sleep on my back?"

While the Pillow Cube was specifically designed for side sleepers, we have heard from some side/back sleepers that they enjoy the pillow too! But all in all, the pillow is intended for side sleepers.
Where do you ship to?

We currently ship within the United States.
What is in the foam?

Our high-quality foam is made of breathable, viscoelastic polyurethane.
What is the pillowcase made from?

The pillowcase is made out of polyester and spandex.
Can I return the pillow?

Yes, you can. Please take note of the following:

There is a $15 return shipping fee, unless Redo was purchased at checkout for $2.98.
Additionally, there is a 15% processing fee when you select refund back to Original Payment Method. This can be avoided if you do an exchange or select store credit.